2019 WPF Program
Medellin 14th to 17th November 2019
Tuesday 12th November 2019
Seminars for Peace (Optional)
Wednesday 13th November 2019
Seminars for Peace (Optional)
Thursday 14th November 2019
8:00 - 8:45
Doors open for the 13th edition of the World Peace Forum
9:00 - 10:40
Opening Ceremony – introduction by Dominicus Rohde, President of the World Peace Forum and Schengen Peace Foundation,
with addresses by Luis Perez, Governor of Antioquia and Federico Gutierrez, Mayor of Medellin
10:45 - 11:15
13th Edition of the WPF Presntation – Andrea Gaviria
11:15 - 11:25
"Chair for Peace" – Duván López Yepes
11:45 - 12:15
Globan Peace Index – Michael Collins
12:15 - 13:00
Opening panel "Vision of Peace" – Dominicus Rohde, Luxembourg, Piedad Guzman, Colombia,
Feride Funda, Germany, Jaime Cardenas, Italy, Daniela Rossi, Brasil,  Prof. Jamil Simon, USA, Michael Collins, Australia.
14:00 – 14:15
COHERENCE, HUMAN WISDOM, BEAUTY: for a NEW CO-HABITING the EARTH – Anna Bacchia
14:00 – 15:00
Colombia's role on the construction of Peace
Ariel Avila – Foundation for Peace and Reconciliation

 

Humberto De La Calle – Agreement Negotiator

 

Victoria Sandino – FARC representative

Miguel Antonio Ceballos – High Commission for Peace
Angela Robledo – Women in Peace
Padres Osvaldo Torres – Scholas
15:00 – 15:45
Letters for Peace – Andrea Gaviria
15:45 – 16:45
"#Nos Estan Matando" Social Leaders
Cathalina Sanchez – Director Museum for Memory 

Francia Marquez – Social Leader

Aida Avella – UP Representative

Verification Commite – UN representative

Antioquia Leaders – "Amigos Unidos" Corporation
16:45 – 17:30
Kick off of 2020 World Peace Forum year of conferences and workshops for peace.
17:30 – 17:45
Closing Prayer – Padre Osvaldo Torres
18:45 – 19:45
Coctail with Mexican Mariachis
Friday 15th November 2019
8:45 - 9:15
Introduction to Day's Theme – Dominicus Rohde, Andrea Gaviria
9:15 - 10:00
Human Rights and Earth
Sheikh E

ş

ref Efendi – Religion and Environment

Jaime Cardenas

Vicky Hansen

Dominicus Rohde – Green revolution
Matias Amadassi – In Peace with our Food and Health
Helyda Di Olivera
10:05 – 10:20
Day´s Context – Andrea Gaviria
11:00 – 13:00
Peace and Environment workshops
14:00 – 16:00
Peace and Environment workshops
16:00 - 17:00
Antioquia Talks
Tatiana Gutierrez – Peace Manager

Luiz Perez – Governor of Antioquia

Luis Carlos Ochoa – (diputado)

Luz Imelda Ochoa – Secretary

Teresa Aristizaba – Pacific Route
17:00 – 17:20
Closing ceremony – Dominicus, Piedad, Andrea
17:20 – 17:40
Final Blessing – His Highness Sheik Esfendi
Saturday 16th November 2019
Visit to San Carlos and San Roque municipalities, various museums of memory and remembrance – leaders in victims retaliation processes.
Sunday 17th November 2019
Activities in some of Medellin´s districts
District 13 San Javier: tour of social NGOs
District 2 Santa Cruz: Human Rights festival and visit to Social investigation centre.
District 5: Screening of Peace Construction documentary at Parque Juanes.
Tribute to our Founder Dominicus Rohde
It is with great sorrow that we share that Dominicus Rohde passed away on the 1 February 2022. He was in Argentina with his family when he suffered a sudden cardiac arrest.
A proverb states, "If you are planning for a year, sow rice; if you are planning for a decade, plant trees; if you are planning for a lifetime, educate people." This reminds us of the life of Dominicus Rohde, who in less than 54 young years, had seven offspring, created the Schengen Peace Foundation and its World Peace Forum to educate and connect peace builders, and planted trees for generations to come. Dominicus's profound qualities of joyfulness, vision and networking created a springboard for many projects around the globe.
His indomitable spirit enabled him to lead from the front. He valued friendship and showed great kindness, love, and concern for his colleagues and his family members.
As tribute, we aim to emulate his ideals and work toward realizing his dreams of a more peaceful and sustainable world. Let his vision inspire us to follow in his footsteps. God chose his company on the Chinese New Year of the Tiger. Dominicus's noble spirit will be remembered by all of us. Join us in hearing his tiger spirit roar as he soars with the angels.
On behalf of the Luxembourg Peace Prize Team and World Peace Forum Luxembourg, Schengen Peace Foundation
Vicki Hansen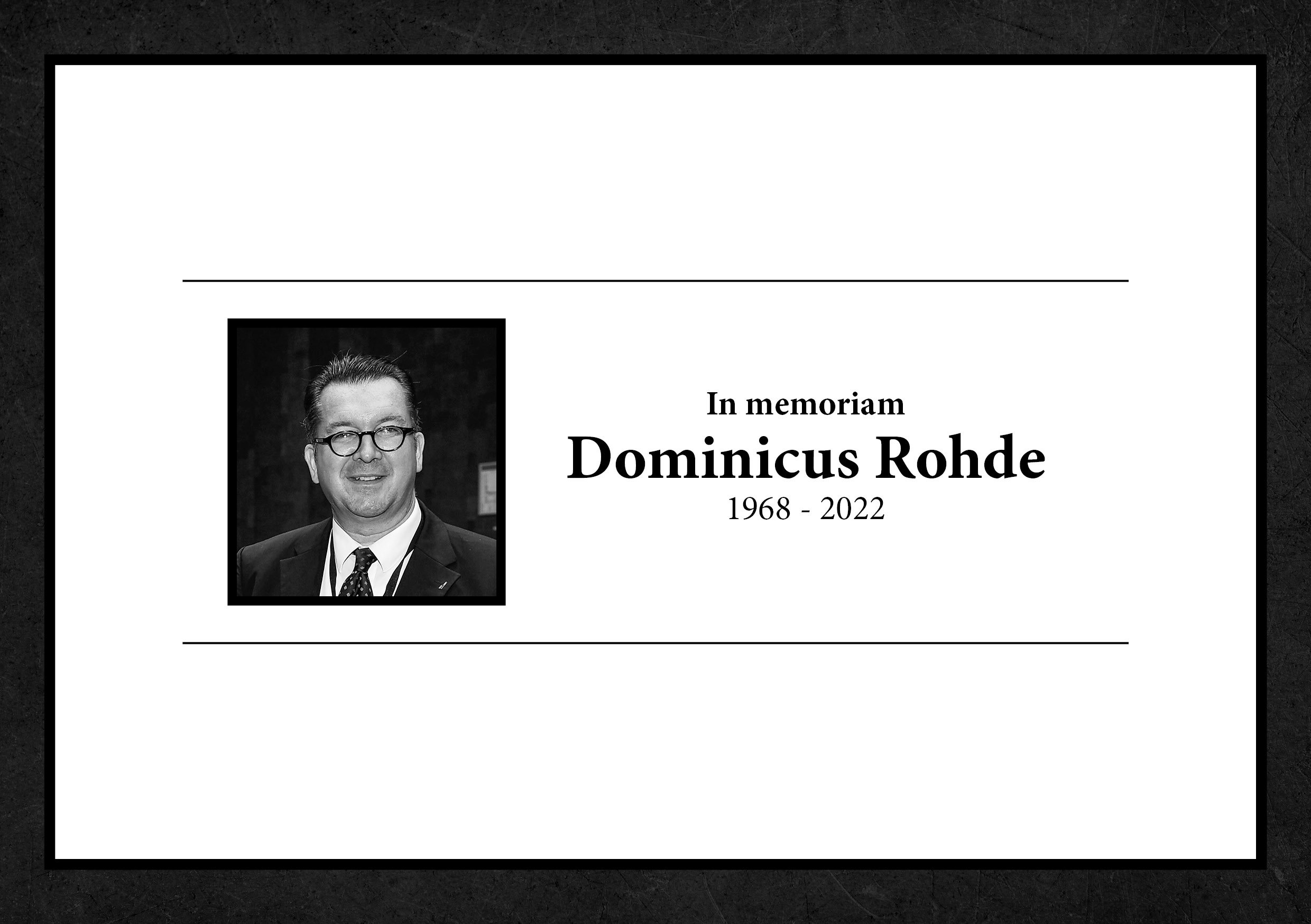 Get the Latest News & Updates
In order to ensure that the WPF can give you the visibility you deserve, the Schengen Peace Foundation wants to continuously scale-up its organization and professional resources by engaging professionals in its activities.