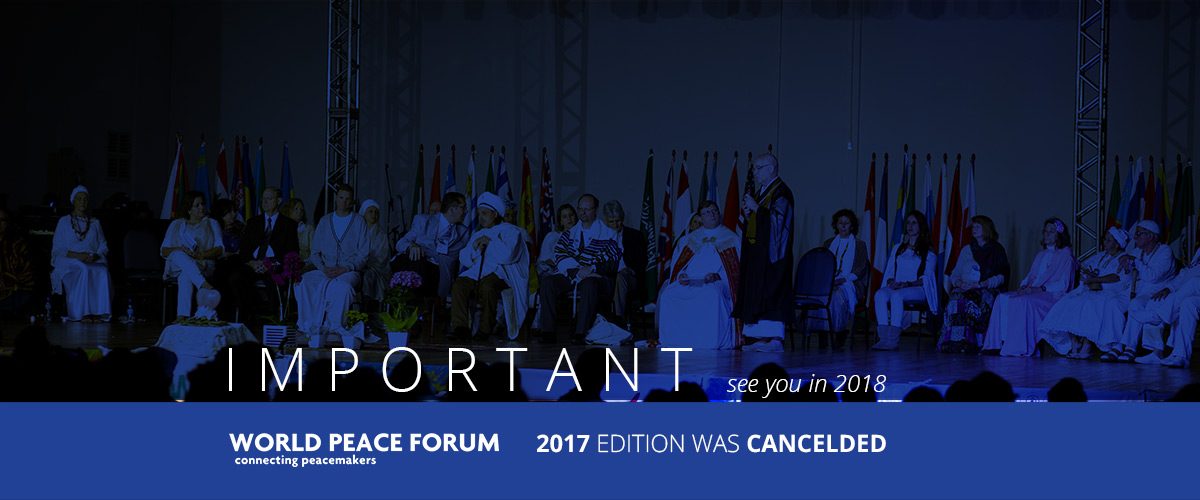 IMPORTANT: World Peace Forum 2017 was canceled
Dear delegates and dear friends of the World Peace Forum,
It is our great regret and duty to have to inform you that together with our partner Caritas Jordan, we, the Schengen Peace Foundation, had to take the saddening decision to cancel our 11th World Peace Forum planned for September 21st to 25th 2017. This fills us with sorrow and pain.
Unfortunately, due to the current situation, we can no longer guarantee a large public and free access event planned to welcome over 1000 delegates from all over the world in the city center of Amman.
Recent diplomatic and political affairs as well as the sad events in several European countries in the past days, no longer make it possible to guarantee the smooth development of a large, mediatic conference in the city center.
The much smaller Youth FORUM (YWPF), planned for the week prior to the WPF for around 100 youth outside of the city of Amman will take place as planned.
Caritas Jordan will run a small one-day meeting on September 22nd in order to commemorate the peace effort. Additionally, Carlos Palma and his Youth World Peace Forum team are planning to enlarge the Youth Forum for the dates of the original WPF with activities. Anyone who had originally planned to attend the WPF in Amman and has their flights booked already is very welcome to attend these events.
We are very thankful for the great efforts made by our partners at Caritas Jordan to try to save this 11th WPF until the last moment. Unforeseen circumstances out of our control now oblige us to cancel this project, anticipated with so many expectations all over the world.
Please contact us for any further information and assistance.
Dominicus Rohde
President of the World peace Forum
Recent News

We are honored to invite all young peace...
14 September, 2017

IMPORTANT: World Peace Forum 2017 was canceled Dear...
19 August, 2017

April 30th, 2016, is now part of history....
1 May, 2016
Follow Us
Twitter Feed