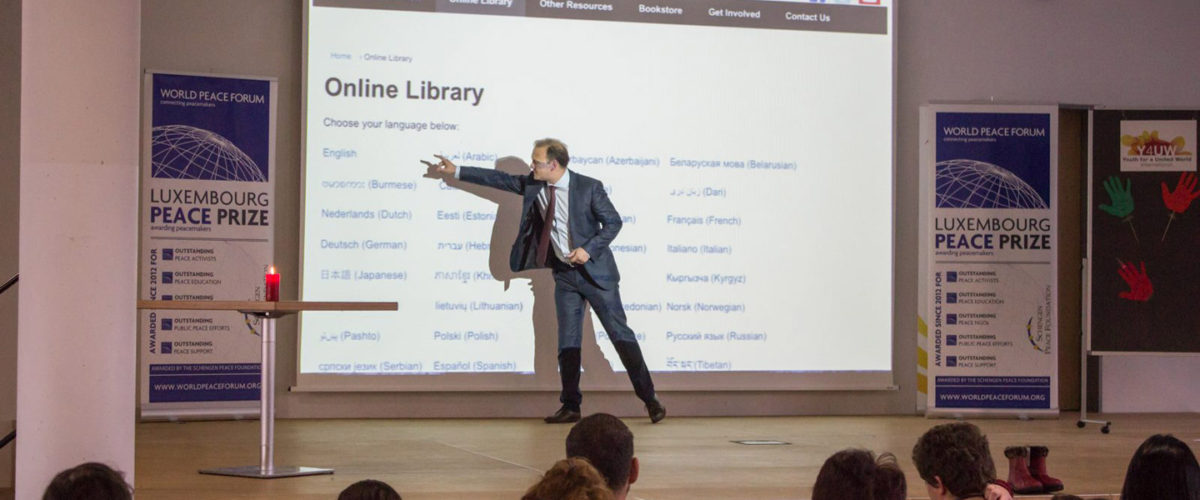 Before concluding I would like to draw your attention to forgiveness in the context of micro or everyday conflicts, the ones that take place at home, school, work, and among friends. Attention is usually paid to the healing power of forgiveness, but its protective or preventive value is overlooked.
Often conflicts start out being small. By perpetuating over time, social histories of violence can act as justification for new offenses. Therefore, forgiveness should be a commonly practiced resource; at home, school, work, and among friends.
Another victim of terrorism said that he had participated in a pilgrimage for peace. Among the many posters and banners with all sorts of slogans, he saw a sticker that said: "World peace begins at home" . Of all the micro spaces for forgiveness, the family is perhaps the most paradigmatic. This is where children can experience forgiveness and learn to redirect situations that can cause aggression. You learn to apologize, forgive, overcome the resentment and revenge, love unconditionally, acquire a sense of justice and reparation, and to respect others. From a personal and social standpoint, it is desirable to learn as early as possible to manage interpersonal conflict. Educating in forgiveness means teaching that human beings are vulnerable and dependent, as well.
Moreover, the family has a unique role in that it can cut off the streams of hatred that pass down from generation to generation. Sometimes resentment can be seen as an affirmation or a positive sense of identity: a "being against someone". It is necessary to purify family memory, and I think this may open up a wide field for educators in the broadest sense.
Schools are also well placed for teaching forgiveness. In the Basque Country, for example, encounters between victims and high school students have been organized for some time. The victims tell their experience and bring a message of peace and coexistence into the classroom.
IV. Conclusion
In conclusion, I would like to say that forgiveness builds and reinforces peace and prevents violence. Its liberating and healing effects are revealed after the offense. In one of his best known works, the French writer and anthropologist René Girard speaks of "violent mimicry" as a constant in human history. It is within our power to reverse the trend and encourage the "mimicry of forgiveness".
The experiences of forgiveness that we are told about, show that forgiveness is possible, even in the midst of the worst offenses and circumstances. We also know that it is difficult. But if we want to live in peaceful societies, we must break the chain of revenge and foster among our families, communities and nations the healing power of forgiveness.
JAIME CÁRDENAS DEL CARRE
WORLD PEACE FORUM, SCHENGEN
LUXEMBOURG
Cfr. Robert J. STERNBERG and Karin STERNBERG, La naturaleza del odio, Paidós, Madrid, 2010, p. 256.
There Be Dragons, 2010, directed by Roland JOFFÉ.
Desmond TUTU, No Future without Forgiveness, Rider, Great Britain, 1999.
Cfr. Christel MARTIN, Madre di diecimila figli, Piemme, Milano, 2007.
Cfr. Daniel PHILPOTT, Just an Unjust Peace, An Ethic of Political Reconciliation, Oxford University Press, New York, 2012, Chapter 12: "Forgiveness".
http://opusdei7.wordpress.com/2011/04
diariodeburgos.es, 08/08/2009
El País, 12/29/2011. http://www.elpais.com/edigitales/entrevista.html?encuentro=8694
Cfr. Vladimir JANKÉLÉVITCH, El perdón, Seix Barral, Barcelona, 1999, pp. 55-60.
El País, cit.
Cfr. United Nations, Commission on Human Rights, Human Rights Resolution 2005/66, Right to the truth.
El País, cit.
Diario Vasco, 11/02/2011, http://www.diariovasco.com/v/20111102/politica/venganza-haga-justicia-20111102.html
Diario Vasco, 11/02//2011, http://www.diariovasco.com/v/20111102/politica/exijo-perdon-porque-perdonar-20111102.html
Christel MARTIN, Madre di diecimila, cit., p. 128.
Ibid.
John Paul II, XXX World Day For Peace 1997, Offer forgiveness and receive peace.
Cfr. El País, cit.
Ibid.
Cfr. René GIRARD, Veo a Satán caer como el relámpago, Anagrama, Barcelona, 2002.
Recent News

We are honored to invite all young peace...
14 September, 2017

IMPORTANT: World Peace Forum 2017 was canceled Dear...
19 August, 2017

April 30th, 2016, is now part of history....
1 May, 2016
Follow Us
Twitter Feed